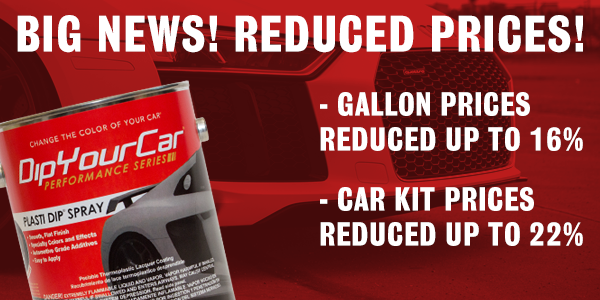 It just got more affordable to Dip Your Car
We have lowered pricing on all Gallons and Car Kits up to 22%!  In a world where most companies continue to go up in pricing - DYC worked around the clock to find ways to bring your costs down.  We partnered with new vendors, reduced overhead, streamlined internal processes  - and we are now passing those savings down to you. Enjoy the new pricing and dip on!
"First time since…ever, that I've gotten to see someone is lowering prices. Ty."

"Awesome work!  Not easy to do in this environment!"

How much can I save vs the old pricing?

You will find Gallons and Kits reduced in price between 9% and 22%, depending on size and color.  This can easily save you hundreds of dollars when you dip your car.

Do I need a coupon or code to save the money?

Nope!  Our prices have been reduced right here on the website.  So no coupons or codes are needed.

Are all types of gallons discounted?

No, unfortunately we were not able to reduce the pricing of Low VOC gallons (yet).  These gallons are far more expensive to produce, but we are still working on options to help with these material costs.